Portfolio
Tom Elgin is no longer working as a web designer. This page remains for historical information. For up-to-date information about my work please view my Resume.
The web design process is something that I love from beginning to end. Client consultation, project and team management, information architecture, graphic design, programming, and editing all get me excited. I like a few other things, like abstract mathematics and mountain biking, and I have been known to do short-notice updates while camping on a beach in Oahu (yes, I camp with a laptop).
Below are several web projects in which I've had a significant role.
The Oregon Bus Project
Project Lead
October – December 2005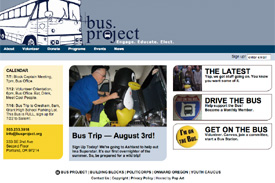 Organized team of 6 volunteers and staff around a common goal and schedule.

Created cross-browser XHTML/CSS/JavaScript code from Photoshop design.

Installed site Content Management System (Drupal) and database (mySQL), heavily customized with PHP code.

Wrote documentation and trained staff to easily update and add to site.
When I joined the project a layout had been designed but progress was stalled due to several challenges. I met with the team to outline and divide up our tasks. Within three weeks I had transformed the Photoshop design into a web page and we had rounded up the hardware and software we needed. The site was successfully launched less than 80 days after I began work, including over 150 articles contributed by 7 staff. It was named Site of the Day by Politics1.com, a national news blog, on December 9.
The site has been live at www.busproject.org since December 2005 and was moved to the WordPress platform in 2008.
Genomics in Education
Contract Web Designer
August 2005
Designed and coded original informational site in HTML/CSS2.

Professional design presents accomplishments prior to grant renewal.

Site includes curriculum materials, streaming video, original graphics, and project assessments.
The site has been live at www.nslc.wustl.edu/elgin/genomics/ since September 2005.
Science Outreach of Washington University
Web Designer
Summers 2000, 2001, July 2004
Designed and coded original outreach site with downloadable online curriculum.

Merged input from director and 3 program coordinators.

Trained print editor to make updates.

Returned three years later to bring design up to date with current standards.

Site has served an average 50 visitors per day for five years, primarily K-12 educators.
The site has been live at www.so.wustl.edu since August 2000 and was redesigned in 2008.
On The Loose, Outdoors Club of the Claremont Colleges
Webmaster, then Program Director
2003-2005
Created a simple database-driven online trip sign-up application with Active Server Pages.

Designed robust trip sign-up application and hired programmer to code it while I was club Director.

Converted Trip Guide from print to web.

Responsible for server and website maintenance for two years.

Site processes 1000+ sign-ups per year and serves 50-100 visitors per day, primarily college students.
The site has been live at www.on-the-loose.com since August 2002 (and now otl.pomona.edu).